Stained and leaded glass for cabinet doors, transoms, doors (exterior, interior, bathroom, study, studio, wine room, pantry), room dividers, fireplace screens, new construction, remodeling; fused glass for dishes and plateware as functional glass items or decorative glass items in sets or sold singly; stained glass as art for hanging, and many more items are the things Transoms and More can do for you.
At Transoms and More we have been working with stained and fused glass for almost twenty years. We work from our studio in The Villages, FL.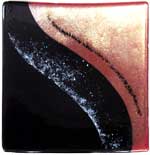 Victorian Hanging Glass
48" x 48"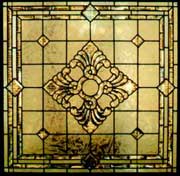 The creators of Transoms and More are Rollie and Phyllis Williams. Phyllis has over thirty-five years of fine art furniture painting and teaching experience. This experience provides exquisite color design and color blending for all of the designs whether they are the fused glass plate and dishware as functional glass art, framing and faux finishes of the frames for Stained Glass As Art or in our transoms, windows and doors. Rollie provides design, building, marketing, accounting and janitorial services.
The most important element of the work is the client and what works for the client. We will spend as much or more time with the client in the consultation, design, and stained glass choice phases then we will in the actual construction of the piece.A systematic process of developing information about the client¡¯s desires, color schemes and sizes takes place prior to the building the stained glass or fused glass project. In the local area, we also provide installation services rather than turning the piece over to an inexperienced installer.
Contact us by e-mail at rollie@transomsandmore.com or call the studio at 352-751-5536 to set-up an appointment. The studio is located in The Villages, FL 32162.